Top 10 Neighbourhoods in Okotoks, Alberta: Discover the Hidden Gems
If you're seeking a charming and vibrant community near Calgary, look no further than Okotoks, Alberta. This thriving town offers a unique blend of natural beauty, friendly atmosphere, and a wide range of amenities. In this article, we'll explore the top 10 neighbourhoods in Okotoks, each with its own distinct character and appeal.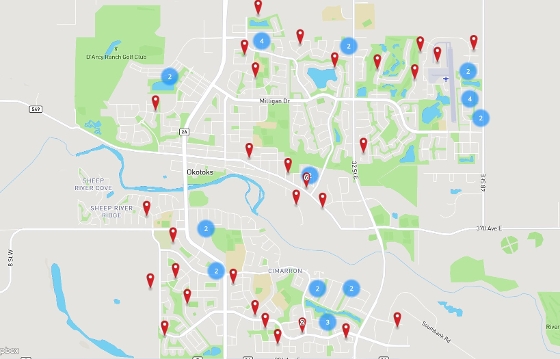 1. Cimarron
Situated in the southwestern part of Okotoks, Cimarron is a family-friendly neighbourhood known for its spacious homes and well-maintained parks. This community provides a perfect blend of tranquility and convenience, with easy access to schools, shopping centers, and recreational facilities.
2. Crystal Shores
Nestled around a stunning lake, Crystal Shores is a highly sought-after neighbourhood that offers breathtaking views and recreational activities like swimming, boating, and fishing. With a variety of housing options and its close proximity to schools and amenities, Crystal Shores is an ideal choice for families and outdoor enthusiasts.
3. Tower Hill
Tower Hill is a historic neighbourhood in Okotoks, featuring beautiful tree-lined streets and character homes. This area boasts a strong sense of community, with well-established schools, parks, and charming local businesses within walking distance. Tower Hill perfectly blends old-world charm with modern conveniences.
4. Westmount
Known for its picturesque landscapes and scenic views of the Rocky Mountains, Westmount is a desirable neighbourhood that offers a peaceful and serene living experience. The area is home to numerous walking trails, parks, and playgrounds, making it an excellent choice for nature lovers and families alike.
5. Drake Landing
If you're looking for a neighbourhood with a strong focus on environmental sustainability, Drake Landing is the perfect fit. This eco-friendly community utilizes innovative geothermal heating systems, providing residents with energy-efficient living. Drake Landing also offers quick access to schools, shops, and recreational facilities.
6. Sheep River
Situated along the banks of the Sheep River, this neighbourhood is a nature lover's paradise. With its extensive pathway system, residents can enjoy scenic walks, picnics, and peaceful moments by the river. Sheep River offers a tranquil setting away from the hustle and bustle of the town center.
7. Air Ranch
For aviation enthusiasts, Air Ranch provides a unique living experience. This exclusive neighbourhood features a private airfield, allowing homeowners to have direct access to their own aircraft. With its upscale homes and aviation amenities, Air Ranch caters to those seeking luxury and a passion for flying.
8. Suntree
Suntree is a vibrant neighbourhood known for its beautiful parks, playgrounds, and close-knit community. It offers a range of housing options, from single-family homes to townhouses, accommodating various lifestyles. Suntree's central location provides easy access to schools, shopping centers, and recreational facilities.
9. Drake Landing Ridge
Drake Landing Ridge is a newer neighbourhood that offers stunning views of the rolling foothills and a peaceful atmosphere. This community features spacious lots and modern homes with contemporary designs. With its close proximity to schools and amenities, Drake Landing Ridge is an ideal choice for families looking for a fresh start.
10. Crystalridge
Last but certainly not least, Crystalridge is a charming neighbourhood that showcases the beauty of Okotoks. With its well-maintained streets, manicured lawns, and a strong sense of community, Crystalridge offers a welcoming environment for residents of all ages. The neighbourhood is conveniently located near schools, parks, and shopping centers, making it an ideal place to call home.
In conclusion,

Okotoks, Alberta, is a town brimming with diverse and appealing neighbourhoods. Whether you're searching for a family-friendly community, an eco-conscious lifestyle, or a tranquil retreat close to nature, Okotoks has it all. Each of these top 10 neighbourhoods has its own unique character, amenities, and attractions, ensuring there's something for everyone.
When considering a move to Okotoks, take the time to explore these neighbourhoods firsthand. Visit the local parks, talk to residents, and envision yourself becoming a part of the community. Okotoks offers a quality of life that is hard to match, combining small-town charm with modern conveniences and natural beauty.
So, if you're ready to embark on a new chapter in a vibrant and welcoming town, consider Okotoks, Alberta, and its top 10 neighbourhoods. You'll find a place to create lasting memories, build strong relationships, and enjoy all that this remarkable town has to offer.
EXPLORE OKOTOKS HOMES FOR SALE BY PRICE RANGE
| | |
| --- | --- |
| OKOTOKS HOMES UNDER $300,000 | OKOTOKS HOMES $600,000 - $700,000 |
| OKOTOKS HOMES $300,000 - $400,000 | OKOTOKS HOMES $700,000 - $800,000 |
| OKOTOKS HOMES UNDER $500,000 | OKOTOKS HOMES $800,000 - $900,000 |
| OKOTOKS HOMES $500,000 - $600,000 | OKOTOKS HOMES $900,000 - $1,000,000 |
| SINGLE FAMILY HOMES OKOTOKS | OKOTOKS MILLION DOLLAR HOMES FOR SALE |
| BUNGALOWS FOR SALE IN OKOTOKS | NEW LISTINGS FOR OKOTOKS |
| NEW BUILD HOMES FOR SALE IN OKOTOKS | OKOTOKS TOWNHOMES & ROW HOUSES |
Finding your ideal home is made easier with the help of Diane Richardson, a trusted and experienced real estate agent. Whether you have questions, need more information, or want to schedule viewings, Diane is here to assist you every step of the way. Contacting Diane is quick and convenient, with multiple options available:
Contact Form: Use the contact form on this website to send Diane a message directly from this page. Simply fill in your name, email address, and your message, and Diane will respond to you promptly.

Phone: Dial 403-397-3706 to reach Diane directly. Call her to discuss your real estate needs, ask questions, or schedule viewings. Diane is available to provide personalized assistance and guidance over the phone.

Email: You can also reach out to Diane via email at Diane@Mypadcalgary.com. Send her an email with any inquiries or requests for more information, and she will respond to you in a timely manner.

Live Chat: Take advantage of the live chat feature on this website for real-time communication with Diane. Simply click on the live chat option, and you can chat with her instantly, getting immediate answers to your questions.
Diane Richardson understands the importance of personalized service and is committed to providing you with the best real estate guidance.
Contact her today and let her expertise help you navigate the Calgary real estate market with confidence.